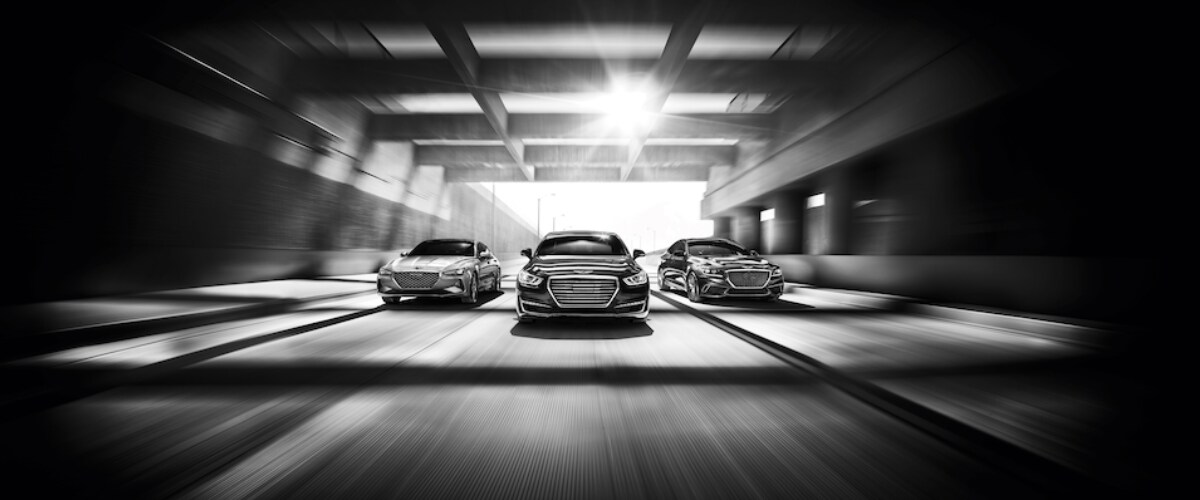 Service Center
Genesis of the South Shore
Schedule Your Next Service Appointment At Genesis Of The South Shore Today!
If you're vehicle requires auto service near West Islip, we encourage you to schedule an appointment with our Genesis of the South Shore service center today! We would love to keep your Genesis vehicle running smoothly and are available to help with your car maintenance or repairs in any way we can. If you have questions, don't hesitate to contact us or stop by our Genesis of the South Shore service center to learn more!
Luxury Genesis Ownership Continues with Maintenance Services in West Islip
Luxury ownership continues with routine maintenance and repairs at our newly expandedGenesis service center near Dix Hills. With our complimentary concierge and valet services, maintaining your luxury vehicle is a stress-free experience. We understand your time is valuable, so we offer trained professionals who can come pick up your vehicle, perform required services, and return it to you anywhere near Lindenhurst, NY, without disrupting your schedule.
Make an Inquiry
* Indicates a required field
Car Service For Every Vehicle Issue
Were you driving around Brentwood NY and the check engine light came on in your Genesis G70? Is it time for your cars next oil change or brake pad replacement? Do you need to have your Genesis G90 inspected? Our service center can help you with all of these issues and much more. From regular maintenance, such as battery checks, tire rotations, and a/c flushes, to larger repair problems, like an engine fix, transmission issue, or suspension difficulties, our West Islip service center can help get your car ready for the open road in no time.
Benefits Of Having Your Car Serviced At Genesis Of The South Shore
Besides excellent service, knowledgeable technicians, and a convenient location, our Genesis of the South Shore service center also comes with many benefits and bonuses for our Bayshore NY, Deer Park NY, and beyond drivers. Here are a few that you'll want to take advantage of and use often.
Scheduling your car service is now as easy as filling out a simple online form. Whether you've had repairs done with our service center before or this is your first time, simply choose which option best suits your needs, select the service that your vehicle requires, and pick a date and time that your busy schedule can handle. It's quick, convenient, and can be completed whenever you need.

When you're scheduling your appointment, you can also select to use our complimentary service valet. Our technicians will come to your home or office, pick up the vehicle that requires service, and drop off a Genesis loaner vehicle for you to use while we're working on your model. This valet option allows you to continue your daily projects without having to stop to have your oil changed or tires rotated and will let you enjoy perhaps a different Genesis vehicle while yours is being maintained.

When you purchase a new Genesis car from Genesis of the South Shore you'll not only receive a stunning, luxurious, and intelligent vehicle, but you'll also enjoy complimentary scheduled maintenance for the first three years or 36,000-miles of your Genesis driving experience. This scheduled maintenance even includes complimentary oil changes every 7,500-miles, which will make maintaining your new car a breeze.


Genesis Recommended Services Near Babylon
Genesis luxury vehicles are modern marvels built to last decades. We recommend looking at your vehicle owner's manual for specifics regarding your Genesis. However, the general recommendation for routine maintenance is every 7,500 miles or every six months, whichever comes first. Here are some additional Genesis maintenance milestones and what you can expect at each appointment:
Important Maintenance Milestones for Your Genesis Near Brentwood, NY
7,500 Miles
Engine Oil and Filter Replacement
Fluid Level Top-offs
Air Filter Inspection and Replacement
Battery Inspection
Brake Inspection
Tire Rotation
Multi-Point Inspection
15,000 Miles: Everything from 7,500 Miles Plus
Vapor Hose, Fuel Filter Cap, Fuel Filter Inspection
Fuel Tank Inspection
Parking Brake Inspection
Climate Control Air Filter Replacement
Blake Fluid Replacement
30,000 Miles: Everything from 7,500 Miles and 15,000 Miles Plus
Fuel System Inspection
Brake Inspection
Steering Inspection
Climate Control Air Filter Replacement
Air Conditioning Filter Replacement
Front and Rear Differential Oil Inspection (AWD)
60,000 Miles: Everything from 15,000 Miles Plus
Drive Belt Inspection
Valve Clearance Inspection
97,500 Miles
120,000 Miles
Engine Coolant Replacement, repeated every 30,000 miles or every two years after this point.
Genesis of South Shore Maintenance Services Near Brentwood, NY
It's important to note that electric Genesis vehicle owners near Bayshore, NY, will have fewer maintenance items than those listed above. Our Genesis technicians will pay closer attention to the electrical systems, brakes, and tires. Many of the engine requirements listed above will not be necessary. Whether you are a new Genesis owner or drive a used model around Deer Park, NY, our factory-trained Genesis Service Technicians can help complete all the recommended services to keep your Genesis running like new.