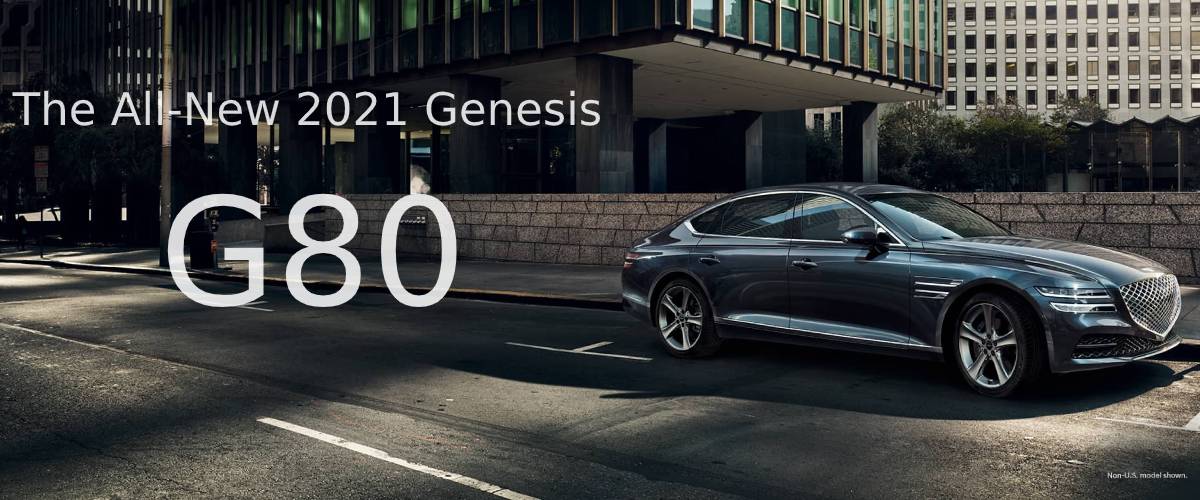 The All-New 2021 Genesis G80 for Sale in West Islip
If you're a fan of Genesis vehicles, then get ready for the 2021 Genesis G80. This luxury sedan brings together all of the features you love about previous models, and they improve upon previous designs so you can ride home to Dix Hills or Lindenhurst, NY in the vehicle of your dreams. You'll turn heads all around Bayshore, NY while you cruise through traffic in the sleek and updated 2021 Genesis G80.
Interior
A high-visibility dashboard and elegant interior is only the beginning for the new 2021 Genesis G80. Its improved interior materials give you an improved riding experience, so those long road trips and commute times in Deer Park, NY will fly right by. The updated central console gives you even more information than before and its touchscreen allows you to control the interface with ease, so you can focus your attention on the road.
You'll also get to choose between a few different interior designs. A more modern and stylish option lets you feel like you're riding in a sports car. If that's not your taste, you can choose a standard design, or you can pick the elegant and mature interior profile that features black and brown trims. Overall, you can trust that we will have a model that's right for you in the Babylon, NY area.
 
Exterior
This car has its own unique presence on the road, and driving it is always a pleasure. Its time-tested form gives it a classic look and feel, and its new updates with the 2021 model also give it an air of modernity that's unique to the Genesis brand. The new 2021 Genesis G80 model also features a wide, latticed grille and sleek striped headlights. Features like this show the world what it means to have a Genesis, and its stylishly-placed front air intake gives the car an even more unique appeal.
Performance
The 2021 Genesis G80 blows away the competition with its 3.5-liter engine that can reach nearly 400 horsepower. This sort of performance isn't typically expected from a four-door sedan like this, but the engineers at Genesis don't hold back when it comes to improving their user experience.
Many people are noting that the 2021 model is rolling in some stunning new improvements to their automotive technology, so you'll have the chance to explore Brentwood, NY with a vehicle that can perform. Its lightweight build gives it an extra boost to efficiency that puts this car just over the top.
 
Safety and Technology
You can expect the best from Genesis when it comes to safety. It comes with automatic cross-traffic alert systems that help you drive better. Highway driving assistance helps you make the right moves while you're moving at high speeds. It can help you make lane changes at the appropriate time, and this protects both you and your new 2021 Genesis G80 from costly damages.
Automatic parking assistance is also available with this new Genesis model. It can bring you in and out of tight parking spaces, and it can even parallel park. When you're looking for a car with the most advanced technology, Genesis never fails to disappoint.
Trims
If you're looking for an even better experience from your new car, Genesis has planned ahead. Upgraded trims will give you extra features, like designated climate control systems, heated and cooled seats and a panoramic roof. You can even purchase a model with leather seats, and a heated steering wheel. The 2021 Genesis G80 trims are looking more impressive than ever.
Choose from: 2.5T and the 3.5T.
Reserve Your 2021 Genesis G80 Today
Features like this have to be experienced in person, and that's why we'd love to give you the opportunity to explore a new Genesis G80 at Genesis of the South Shore. Call any time and our team will be happy to give you the latest information on the newest car models and make your reservation!