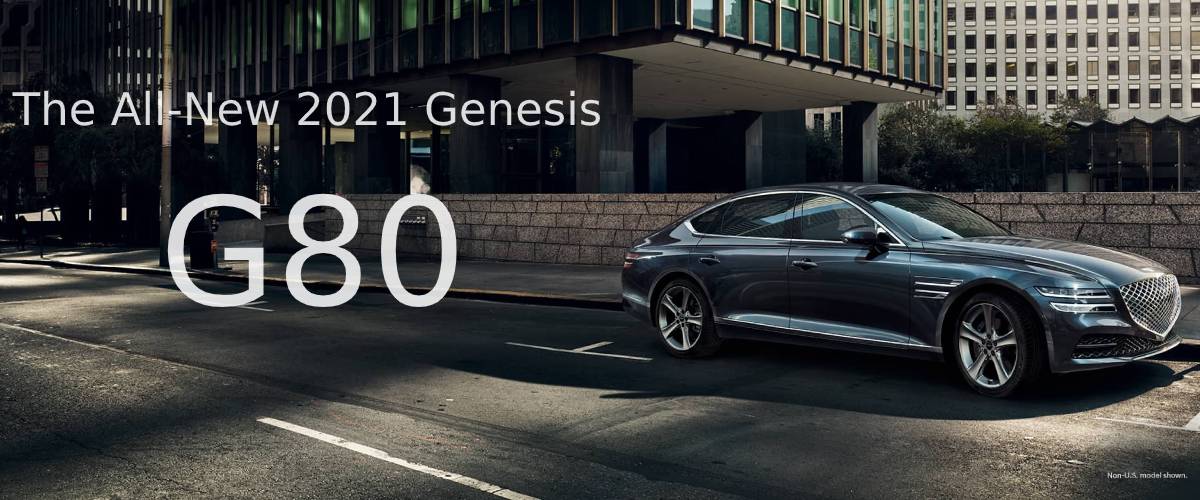 The New Genesis G80 for Sale in West Islip
If you're a fan of Genesis vehicles, then get ready for the Genesis G80. This luxury sedan brings together all of the features you love about previous models, and they improve upon previous designs so you can ride home to Dix Hills or Lindenhurst, NY in the vehicle of your dreams. You'll turn heads all around Bayshore, NY while you cruise through traffic in the sleek and updated Genesis G80.
Interior
A high-visibility dashboard and elegant interior is only the beginning for the new Genesis G80. Its improved interior materials give you an improved riding experience, so those long road trips and commute times in Deer Park, NY will fly right by. The updated central console gives you even more information than before and its touchscreen allows you to control the interface with ease, so you can focus your attention on the road.
You'll also get to choose between a few different interior designs. A more modern and stylish option lets you feel like you're riding in a sports car. If that's not your taste, you can choose a standard design, or you can pick the elegant and mature interior profile that features black and brown trims. Overall, you can trust that we will have a model that's right for you in the Babylon, NY area.
 
Exterior
This car has its own unique presence on the road, and driving it is always a pleasure. Its time-tested form gives it a classic look and feel, and its new updates with the latest model also give it an air of modernity that's unique to the Genesis brand. The new Genesis G80 model also features a wide, latticed grille and sleek striped headlights. Features like this show the world what it means to have a Genesis, and its stylishly-placed front air intake gives the car an even more unique appeal.
Performance
The Genesis G80 blows away the competition with its 3.5-liter engine that can reach nearly 400 horsepower. This sort of performance isn't typically expected from a four-door sedan like this, but the engineers at Genesis don't hold back when it comes to improving their user experience.
Many people are noting that the latest model is rolling in some stunning new improvements to their automotive technology, so you'll have the chance to explore Brentwood, NY with a vehicle that can perform. Its lightweight build gives it an extra boost to efficiency that puts this car just over the top.
 
Safety and Technology
You can expect the best from Genesis when it comes to safety. It comes with automatic cross-traffic alert systems that help you drive better. Highway driving assistance helps you make the right moves while you're moving at high speeds. It can help you make lane changes at the appropriate time, and this protects both you and your new Genesis G80 from costly damages.
Automatic parking assistance is also available with this new Genesis model. It can bring you in and out of tight parking spaces, and it can even parallel park. When you're looking for a car with the most advanced technology, Genesis never fails to disappoint.
Trims
If you're looking for an even better experience from your new car, Genesis has planned ahead. Upgraded trims will give you extra features, like designated climate control systems, heated and cooled seats and a panoramic roof. You can even purchase a model with leather seats, and a heated steering wheel. The Genesis G80 trims are looking more impressive than ever.
Choose from: 2.5T and the 3.5T.
---
Genesis GV80 Trim Levels in West Islip
The Genesis GV80 SUV is the perfect luxury vehicle for the modern family in Dix Hills. With plenty of room, luxe interiors, and supple finishes, the luxury SUV makes no compromises when it comes to top-of-the-line luxury and comfort. Genesis of the South Shore near Babylon has plenty of options if you are in the market for a luxury SUV and attractive financing offers to give you all the choices for upfitting your GV80. Whether you need the optional third-row seating or want the thrill of a more powerful engine, luxury touches and all the amenities you need abound in the flagship Genesis SUV model.
GV80 Powertrain Options
GV80 models start with your choice of powertrain. Drivers around Brentwood, NY, can choose from three available engines with these key features:
2.5T AWD: features matte wood trim, a Navigation system on a 14.5-inch HD screen, and a wireless device charger.
3.5T AWD: featuring the thrilling 3.5-liter twin-turbo V6 engine, 20" alloy wheels, and panoramic sunroof
3.5T AWD Advanced+: 3.5-liter twin-turbo V6, 20" alloy wheels, third-row seating with power folding split and 50/50, seven-passenger configuration.
GV80 Packages
Once you have selected your powertrain, you also have additional packages to choose from for added features:
Standard: 19-inch alloy wheels, synthetic leather upholstery, power, and heated seats, heated steering wheel, advanced safety technology.
Advanced: Everything from the standard except upgraded 20" alloy wheels and genuine leather upholstery.
Prestige: Everything from the Advanced level except upgraded 22" alloy wheels, 12.3-inch 3D digital instrument cluster with head-up display, three-zone climate control, heated second-row seats, power cushion extension, bolster, and ergo motion, and active noise control.
Additional GV80 Exclusive Accessories
Genesis of the South Shore near Lindenhurst, NY offers GV80 owners exclusive accessories:
Roof Rack Cross Bars
Cargo Tray
Rear Bumper Appliqué
Tow Hitch
Wheel Locks
---
Choose Your GV80 at Genesis of the South Shore Near Bayshore, NY
If you are ready to choose your own Genesis GV80 luxury SUV, our finance experts at our dealership near Deer Park, NY, can help you get the best loan terms so you can splurge on all the exciting features you want. Genesis of the South Shore offers a luxury buying experience that continues throughout ownership. We also offer concierge and valet services whenever you need maintenance services on your Genesis. Visit us to check out all the exciting GV80 luxury features.