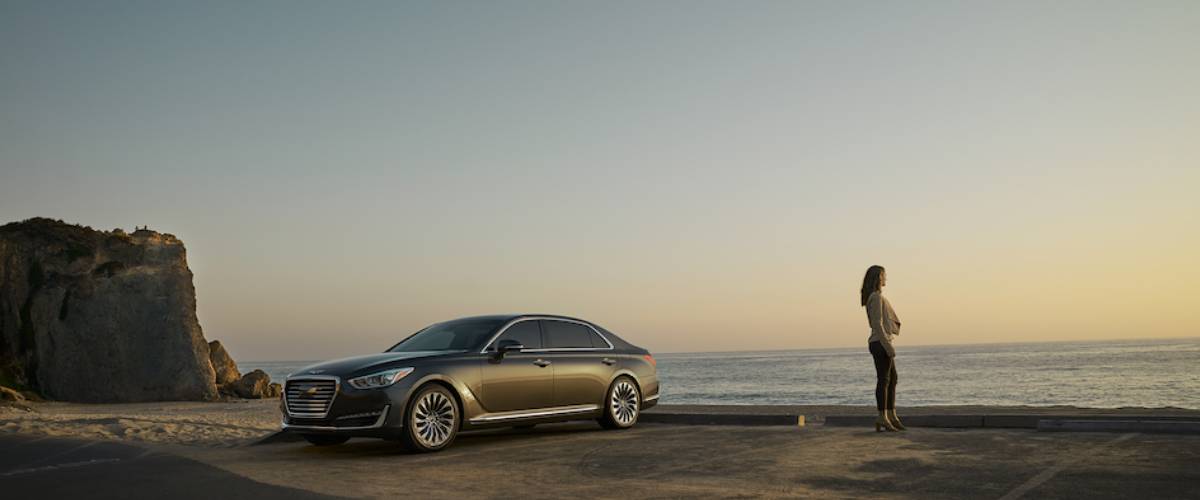 Explore the New Genesis G90 at Genesis of the South Shore
The new Genesis G90 is a popular luxury four-door sedan and currently resides for purchase or lease here at Genesis of the South Shore in West Islip, NY. We want you to enjoy total satisfaction with your purchase, so we put together some answers to our customers most frequently asked questions (FAQs) for your consideration. Read below to learn more about the latest version of this vehicle, then contact Genesis of the South Shore and come see us on Sunrise Highway in West Islip, NY. Shoppers will find us conveniently located just 10 minutes outside of Babylon, NY using our simple directions.
FAQs About the New Genesis G90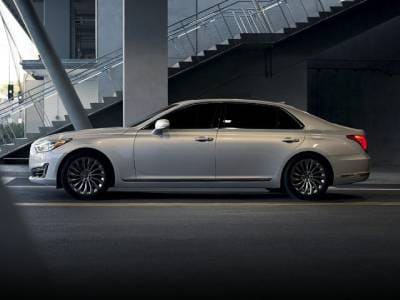 Does the Genesis G90 offer all-wheel drive?
The 2020 Genesis G90 does offer Advanced All-Wheel Drive. Both trims of this vehicle have the option for all-wheel drive, which provides optimal grip on the roads and keeps you level when the roads in Dix Hills become treacherous in the snow. However, if you want to enjoy a more powerful acceleration and speed capabilities, rear-wheel drive is the standard for this vehicle.
Does the Genesis G90 offer Apple CarPlay® or Android Auto™?
The 2020 Genesis G90 comes with a 12.3-inch touchscreen, and both Apple CarPlay® and Android Auto™ are optimized for it. With Apple CarPlay® and Android Auto®, in addition to the integrated voice commands of the infotainment system, you can enjoy a variety of entertainment media on the road without having to remove your eyes from your task at hand: driving.

You can listen to podcasts, music apps, and audiobooks from the comfort of your new Genesis G90 without any interruptions. You can also use both Apple CarPlay® and Android Auto™ to help you navigate to your desired destination, though a navigation system is standard.
How many people can fit inside the Genesis G90?
Technically five people can fit inside of the Genesis G90 and each will enjoy a great deal of head and leg room thanks to over 107 cubic feet of passenger volume. Even if you're transporting kids or small teens, five people should fit in your midsize luxury sedan comfortably.
Does the Genesis G90 have a backup camera?
The latest Genesis G90 does have a backup camera. In fact, this vehicle is loaded with many safety features including a 360-degree view camera system that helps your car protect both you and your passengers on the road. 
Does the Genesis G90 offers remote start?
Through the new Genesis Intelligent Assistant App, downloadable for your smartphone, the Genesis G90 offers much more than remote start. With your Apple or Android smartphone, you can control your car's air conditioner, heat up your seat, open and close your car windows, lock and unlock your car, check the status of your car, find your car in a crowded parking lot, and send your destination information to your car's navigation system. All of these tasks you can do from the comfort of your home or office in Deer Park, NY.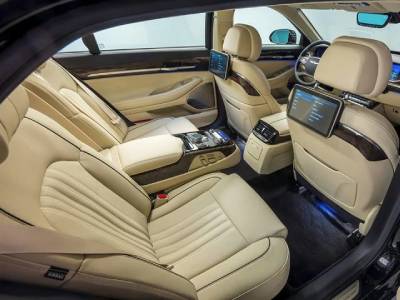 Is the Genesis G90 good at driving in the snow?
Thanks to the available Intelligent All-Wheel Drive, the Genesis G90 is a good vehicle for driving in the snow. However, due to its weight and stability, the Genesis G90 can still hold its own driving in the snowy streets of Bayshore, NY even if you choose not to get all-wheel drive.
How many trim levels does the Genesis G90 offer?
The new Genesis G90 offers two trim levels: the 3.3T Premium trim and the 5.0 Ultimate trim. The 3.3T Premium comes with a 3.3-liter turbocharged V6 engine that generates 365-horsepower and 376 pound-feet of torque. The 5.0 Ultimate trim comes with a 5.0-liter V8 engine that has 420-horsepower and 383 pound-feet. As both of these trims come fully-loaded with features, the trim you choose typically depends upon how much power you want to enjoy.
For the convenience of your backseat passengers, the 5.0 Ultimate provides two power-adjustable seats and two 10.3-inch HD entertainment screens.
Does the Genesis G90 have adaptive cruise control?
The new Genesis G90 features Smart Cruise Control with Stop & Go, which monitors traffic using front sensors and will slow down/accelerate the car as needed to keep a safe distance between you and cars in front of you. The new G90 also provides a Highway Driving Assist app, as well as automatic lane centering, and Smart Blind Sport Detection.
How many miles does the Genesis G90 last?
The Genesis G90 can last for more than 40,000 miles and even up to 100,000 or more miles without many issues. In order to properly help you through the first few years, or miles or maintenance, our new Genesis G90 models come backed by 36 months/36,000 miles (whichever occurs first) of complimentary scheduled maintenance.
Is the Genesis G90 good for off roads?
Though this task isn't its primary function, the new Genesis G90 is a very stable vehicle that can take on some aggressive terrain, such as driving on slick or dirt roads in Lindenhurst, NY. The Genesis G90's adaptable coil/air-spring suspension give this midsize luxury sedan a great deal of adaptability on rockier terrains. However, as this sedan lacks the proper frame, equipment, and ground clearance, we advise against using the G90 for habitual off-roading as well as towing.
Check Out a New Genesis G90 Today!
Our team at Genesis of the South Shore invites drivers everywhere to check out our new Genesis G90 sedan models/a> and schedule a test drive here at our West Islip, NY Genesis dealership. While we have you here, you may also talk to our finance center experts about your best auto loan or lease agreement options moving forward.
We look forward to meeting you!